projeto Cartazes para cidadania
Cidadania é o conjunto de direitos e deveres estabelecidos por lei em uma sociedade. 
Ser cidadão, portanto, é ter consciência de suas obrigações e lutar pelos seus direitos,
com ética e atitudes politicamente conscientes, fazendo sua parte para o melhor
Dentro disso, nosso projeto propõe a cidadania nas universidades, para que os alunos tenham conhecimento de seus direitos, deveres. Mostra que é possível, juntos, a conquista da voz para que exijam que a universidade cumpra seu papel como instituição educacional - o que inclui desenvolvimento social, pessoal, profissional e acadêmico e também para que busquem sempre melhorias para sua universidade. 
Os cartazes devem ser  manualmente colados dentro de escolas, onde entramos em
contato direto com alunos. Despertar a busca do aproveitamento do espaço universitário, como espaço de reflexão, troca de experiências, amadurecimento de ideias e de formação
__
citizenship Posters project
Citizenship is the set of right and duties established by law in a society.
To be a citizen, is to be conscious of your obligations and fight for your rights with
ethics and politically conscious attitudes, doing your part for a better living in society.
Our project proposes citizenship in universities, so that students are aware of their
rights and duties. It shows that, together, it is possible to achieve the voice to demand
that the university fulfills its role as an educational institution - which includes social, personal, professional and academic development and to always seek improvements
The posters must be manually pasted on schools grounds where we come into direct
contact with the students to encourage the use of university space as a place for
reflection, exchange of experiences, maturing ideas and personality forming.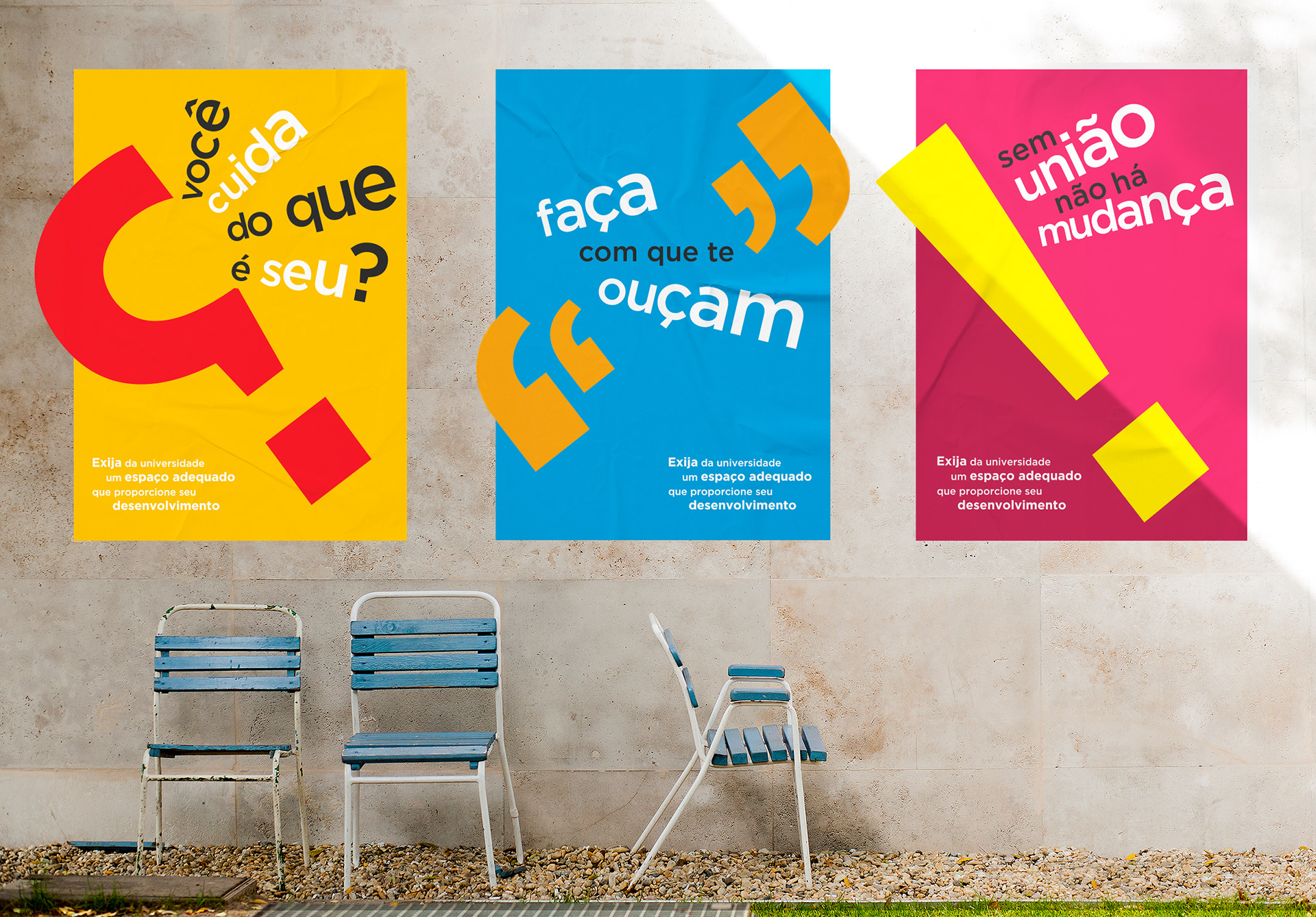 Linguagem dinâmica e direta, para mostrar ao usuário que é algo de sua propriedade,
de seu interesse. Cores fortes e contrastantes, de modo que chame a atenção e seja agradável ler.
Conjunto de cartazes contendo mensagens em sequência, porém independentes, 
possível
de serem compreendidos individualmente. N
ossa proposta engloba apropriação do espaço universitário, procuramos utilizar
da faca especial para expressar graficamente tal intenção.
Dynamic and direct language to show the user that it is something of
his property,
of his interest. Strong and contrasting colors that catches the eye and be pleasant
Group of posters with sequencial messages, but independent, able to be 
understood individually
. 
Our proposal includes appropriation of university space,
we
sought our to use
the special knife to graphically express such an intention.
3x0 cores
Impressão: Offset
Papel Couché 120g
Acabamento: Faca Especial
_________________________________________
_______________________________________
_______________________________________
Interdisciplinary project 
Christopher Taylor de Oliveira